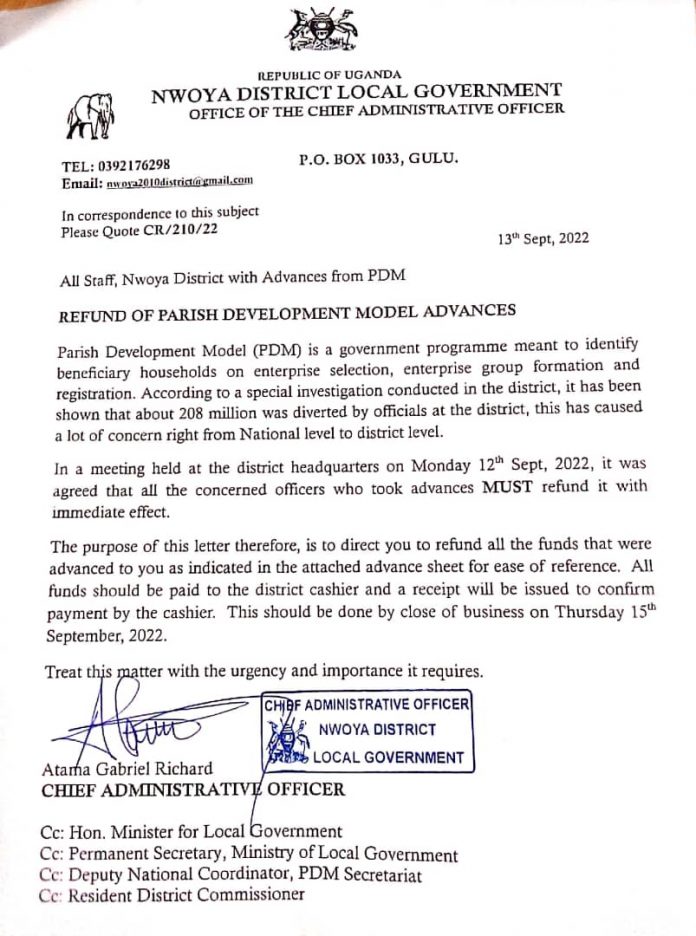 By Okello Jesus, Speak fm
Nwoya district officials in hot soup over the diversion of Parish Development Model Funds which was meant for the different parishes in Nwoya district.
An internal audit done through the office of the Resident District Commissioner has confirmed that these officials have mismanaged the PDM funds.
"My office has done an internal audit and found out that the district officials have mismanaged the PDM money but they should not think that they will not return the money," Says Christopher Omara, the Resident District Commissioner in charge of Nwoya
He disclosed that Nwoya district received Ugx. 417,032,289 shillings for FY 2021/2022 and the PDM money was released to be spent according to the given guidelines but these officials diverted the money to do other activities which are not in the guidelines hence failing to adhere to the guidelines of PDM.
He says the revolving fund was Ugx. 262, 820 million shillings but only Ugx. 104,064,268 shillings were deposited in the 44 Parish SACCOs, leaving a balance of Ugx. 158,755,732 shillings unaccounted for while Ugx. 60,347,366 shillings meant for salary, and Ugx. 99,795,621 shillings were used which means an excess amount of Ugx. 39,448,255 shillings were spent.
He further noted that Ugx. 49,839,531 shillings were received but no equipment was procured thus the money was not accounted for, meanwhile Ugx. 44,024,920 shillings were received for administrative costs but Ugx. 213,172,400 shillings were spent thus spending excess on administration.
"If these people claimed that they had spent the money according to the PDM guidelines on what items/activity was this spending? and under which item did these officials receive the PDM cash, facilitation or fuel and were they entitled to receive it," Omara asked.
"The district leaders were entitled for facilitation for supervision, monitoring or coordination within the administrative cost and the vouchers and the list for all activities or facilitation should be settled before Friday 16.09.2022." Omara directed.
Gabriel Richard Atama, the Nwoya District Chief Administrative Officer confirmed that these district officials have diverted the money from the designated activities and directed them to return the money back to the district account.
"I have written a letter on Monday 13th September 2022 directing these officials to refund all the funds that were advanced to them and should be paid to the district cashier and a receipt issued to confirm the payment," added Gabriel.
According to the Administrative officer, so far many of these officials have positively responded to the letter with some having returned part of the money which has been deposited to the newly opened account at Post Bank Uganda LTD branch in Nwoya district.
"I am very happy that these people are positively responding but we should know that the issue of PDM money is not in Nwoya only but there have been cases in over 30 districts in Uganda so I am not surprised," added Gabriel.
Parish Development Model is a government programme meant to identify beneficiary households on enterprise selection, enterprise group formation and registration.