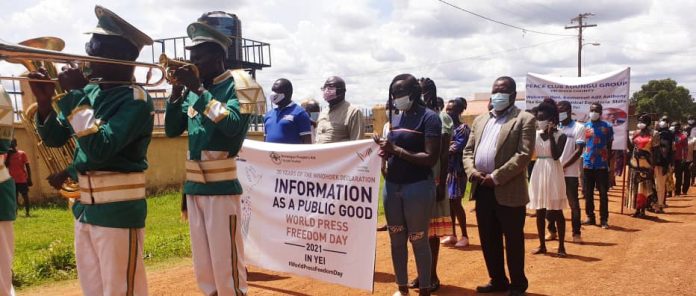 By Ojok Darious Kidomua, Easter Radio
The Director of the South Sudan's Catholic Radio Network urged communities of Yei to Cooperate with media houses and journalists to deliver information to them. Mary Ajith Goch made the remark on Monday 03rd May, during the celebration of the World Press Freedom Day hosted in Yei County of South Sudans' Central Equatoria State.
The world press freedom day commemorated under the theme "Information as a public good" seeked to campaign for the protection and safety of the press in the face of attack against its independence, discuss journalistic ethics and celebrate journalist who gave their lives in the quest for truth.
However, due to poor coordination between the media practitioners and the community, the quality and free flow of information has drastically gone futile. Mary believes if citizens avail information to the journalists then issues affecting communities can be susceptible to redress.
Citizens across South Sudan were informed about the 2013 crisis due to media accessibility. But the civil wars of 1980s and 1990s took citizens by surprise due to media blackout. Mary called on the journalists and media houses in Yei to use the available radio stations and the media houses for the good of the people.
However, she also warned journalists against preaching hatred and misinforming the public with unfiltered informations.
Most media houses and journalists in the country operate under government censorship, threatening working environment and monitored for misinforming the public but the pursuit for truth keeps them moving. Mary is overwhemed with the fact that practitioners in Yei sacrificed their lives operating despite a very un-conducive environment. She however extended the call for respect of journalists as the connecting bridge between communities and government.