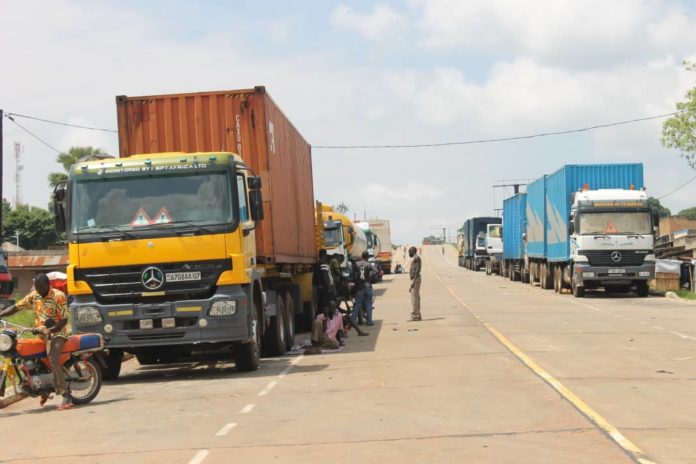 Over 50 trucks with their drivers await their covid-19 test results at Oraba border post in Koboko district. These drivers consisting of those entering and exiting Uganda, Congo and South Sudan have raised concern over poor health services and facilities as services by the health personnel go much longer than they can wait.
The trucks drivers say they have spent over two weeks at the border point due to failure to get their results from ministry of health ever since they were tested for covid-19 on arrival at the border. No driver is allowed to proceed if test results are not yet released. As a result they have to hang around the border for as long as their test results are not made manifest.
"I arrived here on 3rd of this month, I was tested but since that time up to now I have not received my results and each time I ask, the health workers keep promising us yet nothing is happening." Says Amaguru Peter, a driver from South Sudan.
As the days go by, drivers resort to making the border post a home but poor health facilities at the border also poses threat to them as toilet facilities and shelter are not apposite.
Amaguru believe the poor toilet and other health facilities could expose them to extra infections like Malaria and Cholera
"Like here the situation is terrible, we don't have toilet facilities, water for the drivers, and even we don't have access to other medication, apart from suffering from corona there are other diseases malaria, typhoid, people have other infections, we don't have access to drugs, the situation is real alarming."
"The worst is as we are here new people (trucks) keep coming and we mix up with them not knowing their status .you might find you are tested here negative but you reach home when positive just because you mixed up." Said Amaguru
Besides drivers entering and exiting Uganda, other truck drivers are on transit from South Sudan to Mombasa. Muhammad Juma is among them. He says they share water source with the UPDF soldiers which also puts them at risk with any infected truck driver in case of possible contact.
"Our situation here is tense, we are being treated like animals, we don't have toilets, water and even people fear selling for us food." Says Muhammad. "We have now resorted to sharing of facilities with the officers (UPDF and Immigration Officers) at the border and this will put their lives at risk in case one of us test positive for covid-19." He laments.
He however suggested availing sample checking machines at oraba border point so as to reduce on cases of delays and also results getting lost.
Kennedy Lupai, a driver headed to South Sudan from Uganda attributes the delay to late reporting of the medics at the border point.
"We have been here for one week now, you find that these health workers report late (at mid-day) and they only pick few samples and live early hence making us to spend many days here. And even when you look at the room where the sample is being collected, you find that if it's raining, these health workers are washed and others because of fear, they ran away." Says Kennedy
Dr. Oloya Denis the acting district health officer Koboko says samples collected at Oraba are being transported to laboratories in Kampala. At times these samples go missing prompting them to collect another sample for accuracy.
"You find that when we collect the samples we package and, they are being transported to the various labs but occasionally you find that these results some of them get missing or lost either in the lab or on the way, such kind of scenarios we repeat the collection again so as to make right decision." Dr. Denis
He further says challenge of drivers sharing facilities with the officers is something the district has not yet streamlined.
"The issues of sharing facilities with truck drivers at oraba is something that we have not yet stream lined in a view that we needed to totally have separate facility for these categories of people but for now since we don't have these facilities erected inform of latrines, shelters water points, we can still use the preventive measures in place as they share." Oloya said.
Koboko has so far registered three positive cases of truck drivers at Oraba border point, bringing the total numbers of positive cases from the district to seven with more than 68 who are at the quarantine currently.
Story by Adidi Rashul, Spirit fm