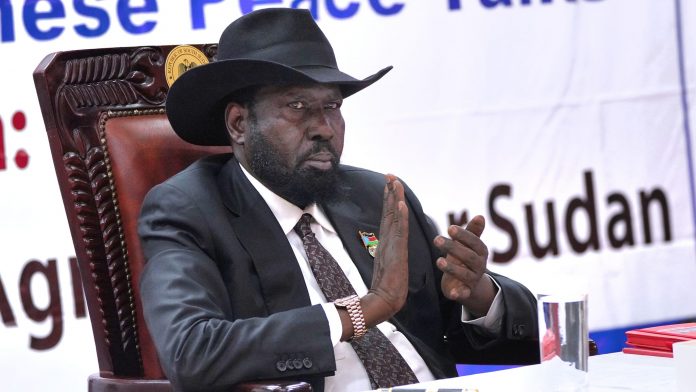 By Otto Abut
President Salva Kiir Mayardit has called on the hold out groups of Sudan to join negotiation table to advance the implementation of the Juba Peace Agreement.
Over the weekend, President Kiir as a guarantor witnessed the signing of the Third Amendment implementation Matrix of the Juba Peace Agreement, signed between the government and the parties to the peace process in Sudan.
President Kiir said that, lasting peace in Sudan will remain elusive until the two leaders of the holdout group join the peace train for consensus.
"I would like to once again call upon General Abdelaziz Adam El Hilu, the leader of the SPLM-North and Ustaz Abdul Wahid Mohamed al Nur, the leader of the Sudan Liberation Movement to seriously consider joining the Juba Peace Agreement." Kiir echoed.
According to President Kiir, the implementation Matrix of the Juba Peace Agreement signed, intends to contribute to the ongoing dialogue about options for transition and best approach towards the issue of democratic transformation in the Sudan.
"The annexure to Juba Peace Agreement signed today is a positive milestone towards forging unity of the internal front. The Government of Sudan can now dialogue with the holdout groups, other political forces and civil society groups on how to achieve a comprehensive peace in the Sudan."
The President also noted that the recent signed implementation matrix will fast-track the formation of the transitional government of national unity in Sudan.
"As the guarantor who led the process let me reiterate on behalf of other guarantors that this workshop is not a parallel political process or a renegotiation of Juba Peace Agreement."
For his part, Sudanese President Abdel Fattah Al Burhan hyped praise for South Sudan government for the endless support, and mediating the Sudan peace.
Abdel Fattah vowed to remain commited to work with the signatories to the Juba Peace deal to fully implement matrix for the lasting peace in Sudan.
The IGAD Special Envoy to Sudan and South Sudan, Ismail Wais, urges the signatories to the Juba Peace Agreement to implement the peace agreement, to ensure that a sustainable peace is reached in the Country.
The mediation of Sudanese Peace Agreement dubbed "Juba Peace Agreement was signed in Juba under the auspices of President Salva Kiir Mayardit on 3rd October 2020 between the Sudanese government and 14 signatories to the agreement.
The Republic of Chad, United Arab Emirate and Intergovernmental Authority on Development, IGAD are the guarantors, while Egypt and Qatar are witnesses to the peace deal.