By Alison Lemeri
Amid overwhelming challenges, few child parents sail together in their marriage. Majority of child mothers and parents often bear the brunt of upbringing an abandoned family responsibility. A refugee woman who's been growing up as a child parent in Uganda is tackling the root causes of her teenage marriage one at a time.
Ofua 3, a suburb of Rhino camp refugee settlement in Northern Uganda is known to visitors as a camp, but to residents, it is more than that – rather a bustling trading hub for refugees and locals including child parents. Near its dusty street that gets muddy when rain falls, a white carpet branded UNHCR covers the roof top of a business building.
The wind blows distinctively fashioned clothes, hanging on a blue rope at the premise. These tailored clothes are ready for sale. While if sold, the proceeds would help Joyce, the brain behind these creations, support her abandoned family. Joyce is not her real name.
A 'fixer of fashion' as one customer describes, Joyce's tailoring experience span over 5 years. In a small working space, she sits in front of a sewing machine, and behold, a tape measure rolls down her shoulders. This time, Joyce fixes a torn pocket of a dark-blue trouser belonging to one of her refugee customers.
"It was promising in the beginning. The business of clothes doesn't expire. It is always in demand. Some are torn and need repair, and that is where our work comes in", says Joyce, a 28-year-old refugee mother dressed in her self-made African wear –kitenge.
Joyce has a story older and deeper than her business. Raising 3 children, Joyce began parenting from childhood following her unexpected marriage at age 16. She's among the 12 million girls globally married every year, according to the United Nations Children's Agency – UNICEF, who later faces an uphill parenting struggle to battle poverty.
"The painful thing is when any of my children fall sick; it's hard for me to take them to a better health care. There's no money and this is really challenging. My business is not also doing well at all. You get sometimes one or two customers per day", says a mother to a boy and two girls.
"Marrying early is not a good choice but sometimes it becomes a choice".
In 2010, Joyce, a South Sudanese mother was married off in her childhood to a man in his 20s, who later abandoned her with the children. She experienced it in her country where the marriageable age is not clearly defined in the constitution, except the Child Act 2008 which defines as a person less than 18 years. South Sudan subscribes to the international conventions including that on the rights of children.
Joyce's father died when she was 3 "before I could even know him", she recalls. She had been under her mother's care when she encountered marriage. She had by then completed primary five and was for holiday after writing final exams. Like thousands of other South Sudanese children, Joyce was eager to rejoin school in 2011, a remarkable year for her country, Africa's newest independent nation.
She was preparing for primary six. Joyce could routinely spend her holidays with the aunt. The leave however didn't end well this time, and "that's where I got my husband and married him in 2010", she says.
"I was not pregnant", Joyce repeats in an exclusive interview. "I think it was January first celebrations. In the evening leading to the New Year, we went for an overnight. I meet him (boyfriend). As I return home, my aunt was moreover looking for me. They immediately escorted me back to him (my husband). She (mother) had put me in school but the problem was payment of school fees. There was no one to pay me to school".
South Sudan is home to over 1.3 million child brides; almost a quarter of Uganda where Joyce is taking refuge. Here at least 1 in 4 girls, aged 10-19 is pregnant or has already engaged in childbirth, according to a multi-partner research report dubbed "Ending Child Marriage and Teenage Pregnancy". Child marriage is an international issue of concern that violates human right.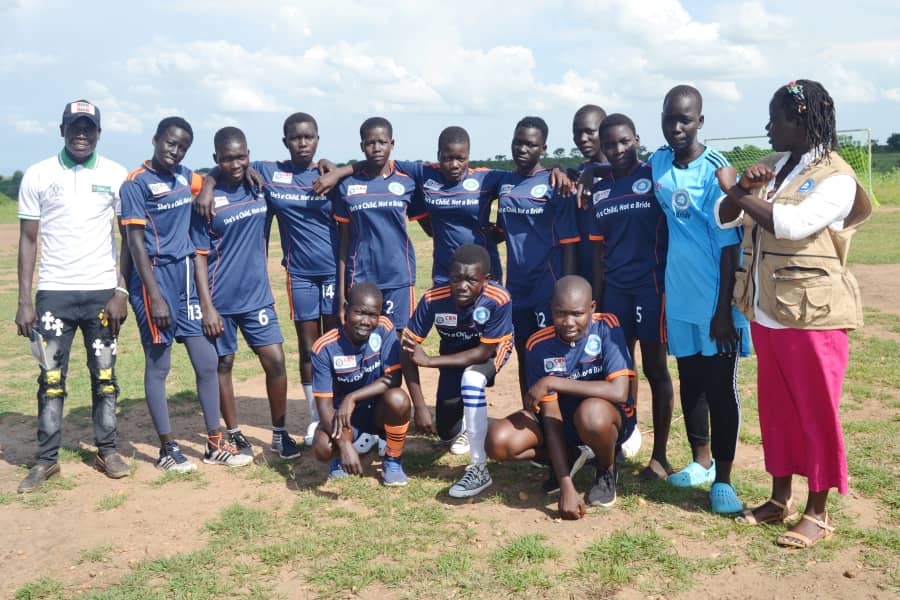 Parenting struggles
In 2016, Joyce fled war safely but not long did she stay with her husband. When they jointly reached Uganda, they first settled in the camp, before taking advantage of the country's refugee policy allowing freedoms to move, work and stay in urban areas. Joyce and her family transferred to a nearby town. She asked to be concealed.
Refugees with financial capacities often shift to urban centers after registration. They access relief items like those in the settlements. Some urban refugees return to the settlement when faced with challenges beyond control.
Joyce's family grappled with the same problem. They barely stayed for half a year, attributing to rising living costs amid shrinking finance. When the husband returned to South Sudan, she says, they didn't hesitate leaving.
"We stayed for only 2 months with my husband. He started showing strange characters. He could go and stay in another camp, spend the whole day there then return late in the evening. He did it for several times. I asked him but he could say that he was hustling", she says.
"In town, things became hard at home. I had nothing. So I shifted so that I could support our children and their school needs".
Efforts to reach her parents and husband for comments failed.
Of Uganda's 1.5 million refugee population, over 50000 are single parents, according to data released in May this year. As many child parents get challenging experience, some end up exiting marriages, abandoning school or focusing on family survival.
From a child mother to a struggling single parent, Joyce's story uncovers the journeys of refugee single and child parents managing their families including separated, with orphans or abandoned. When the husband left, she had to think of survival options, Joyce says. She focused on rebuilding her life and family, turning skills into a business.
"We also have customers in need of customized designs like kitenge. The only challenge is some customers want ready clothes yet it is expensive to get materials. I have a very small capacity", says Joyce, a refugee tailor who now sews different fashions.
The start of Joyce's tailoring business spans two countries: learning and implementing in South Sudan and Uganda respectively. She started tailor training before fleeing in 2016, thanks to a local scholarship that equipped her.
After two years in refuge, she opened her tailoring business. Now, the proceeds help her family respond to school and feeding needs including financing small-scale farming to supplement the reducing monthly relief rations they get.
"I get some money every day to support myself and the family. I also cultivated some cassava. I will harvest them next year", she says.
'Hard choices'
Uganda lies in the Eastern and Southern Africa region, home to more than 50 million child brides, among the highest in the world, UNICEF report, said. Child marriage violates fundamental child rights.
The United Nations Sustainable development Goal 5 demands an end to "all harmful practices, such as child, early and forced marriage and female genital mutilation". Uganda's constitution prohibits marriage to person below the age of 18. This binds both refugees and natives.
Child parents get exposed to overwhelming responsibilities beyond their handle. Some child marriages in settlements result from teenage pregnancies, parents and local leaders note. Certain parents marry off their pregnant girls to ward off responsibility. While some view marrying off could offer immediate options to their financial hardships, they note.
In fact, teenage pregnancies among out of school girls in refugee settlements increased by 22.5 percent in 2021 than the previous year, according to a study by War Child. Referring to a survey it conducted on impact of covid-19 related lockdowns and school closures, the study found about 75 percent of the girls surveyed became pregnant during the lockdown.
Experts blame recurrence of child marriages in Africa on poverty. They however argue causes are multiple and some complex. Conflicts, unimplemented or lenient penalties, negative traditional and cultural practices, and the covid-19 effects drive it, they add.
"Some girls get into marriage because they find it difficult in every corner. The parents maybe have nothing to support them. And you know when a girl grows up like this she needs a special care. She needs sanitary kits for maintaining herself. They are forced to make hard choices though they are or not aware", says Jackline Tabu, a refugee mother and a role model parent combating gender-based violence in Omugo refugee settlement.
Ofeni Moga John, another refugee parent, agrees but argues failure to uphold parental responsibility at family level worsens child marriages.
"Sometimes they (parents) report late home. If it is work that keeps you so, that is understandable. But I think there's always a time somewhere. A father can take alcohol every day but will say to the child who needs a bar of soap, there is no money", he says.
In 2022, Community Development Centre (CDC), a local refugee organization rolled out its project titled: an integrated Sexual reproductive health education to end child marriage. The programme developed a training model using experiences of more than 50 parents and survivors of child marriages including Joyce.
With 6 refugees comprising 4 females and 2 males trained as community educators, the project yielded local production of over 200 reusable sanitary kits. More than 600 refugees aging 10 to 20 years including 400 girls and 200 boys in the settlement benefited from the training.
In communities where culture views child marriages as "normal practices", many cases remain underreported. This persistent cling fuels such marriages as it cements teenage pregnancies as marriages, challenging local interventions, says Nyoma Benjamin, a local Case worker who has been working for local and international organizations in refugee settlements since 2017.
"Cultural influence or interference makes follow up of cases difficult. People normally attach cultural beliefs that those are normal practices", says Nyoma who previously worked as CDC's Community Development officer.
"The community members sometimes refuse to report such issues. They just do (settle) it locally. But when we follow them, we find others have already reached an agreement", says Joseph Idoru Hillary, deputy chairperson of Refugee Welfare council, a local refugee community leader in Omugo refugee camp, an extension of Rhino camp settlement.
"After lockdown, we registered like 45 cases of early marriage starting from April (2022). Some gentlemen who impregnate these young girls either run back to South Sudan or to other settlements. …They usually abandon the girls there".
Idoru has been leading his village's Child Protection Committee, a child-focused group established by Save The Children since 2018 to promote child rights, resolve domestic family issues and clamp down on child abuses such as harassments, corporal punishment, child marriages, pregnancies and abandonment in the village.
Idoru works in collaboration with refugee partners and the government to challenge local traditions that promote the practice. Idoru says though they are making progress, it's important for stakeholders to address the root causes.
"Most of the marriage cases we just identified when the girl is already pregnant. We cannot give them a room. If someone is under 18 years, definitely the marriage cannot continue. It is now the father to take the responsibility of the girl until the girl gives birth to the child. If someone forces it, we report it to the protection partners or the local authority", he says.
A child should be in school to prevent child marriage recurrence, parents, local experts and leaders recommend. They cite the need to implement an integrated approach that deals with triggers including uplifting parental income and capacity of boys and girls on sexual and menstrual health and management.
Joyce equally agrees. Her farming and tailoring business would help her meet children's needs. This, she says, will prevent her children from early marriage.
"I think they (children) will not stress when there's what they need. If there are materials provided, they would make it easy for me to build my business", she says.