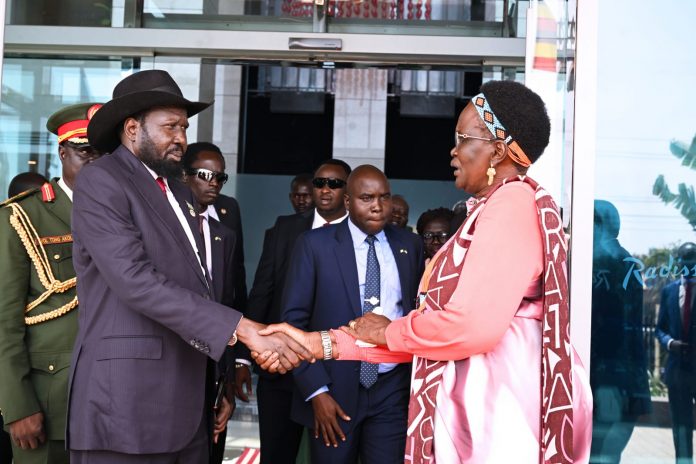 By Majur Chol Khor,
The International conference on women's transformational leadership held in South Sudan's capital Juba on Monday 13th February 2023 at Radisson Blue Hotel under the theme; "Strength of women" brought together over 400 women in leadership, Business, entrepreneurs and an aspiring girls in all the walks of life.
The three days conference is being held on his key notes addressed the president of the Republic of South Sudan, H.E President Salva Kiir Mayardit who graced the start of the event.
In his statement the President said his Government is pleased to host the conference and promised to work closely with all the actors to ensure that an agenda of women empowerment is achieved. Kiir believes if women are empowered it will enable them to know their potentials in leadership citing roles women play during the liberation struggle.
President Kiir used an opportunity to appreciate all the partners involved in supporting the developmental activities and projects in South Sudan especially those aiming at empowering women to be competitive in the labor markets.
"The protection of women rights in the government is very important and that why we develop the policy, our country cannot afford gender-based violence and discrimination against women" said President Kiir.
He urged the people of South Sudan to work jointly in supporting women and girls to achieve their dreams and leadership abilities.
"As we continue to implement the peace agreement, I will make sure my government empower women country-wide, today I calls on you the women of this country to know your values and serve your country, and I assure you of freedom of women rights", Kiir stated.
The Vice President and Chair of the Gender and Youth cluster Hon. Nyandeng De Mabior describe the conference as one of the incredible events that aims at advocating about Gender equality via women empowerment. She described women as bread winners and drivers of an economy, not only in South Sudan but throughout the continent of Africa.
"We join together in order to advancing gender equality in South Sudan because as women we find ourselves battling negatives cultures and gender-based violence as well negative climate change which affected most women and girls, causing many to drop out of schools," Rebecca stressed.
"if women are given equal leadership as of men, they can improve their living and that of their Children as well having an access to resources, I encourage you to listen to the technical presentations for your personal gains and development, Said Rebecca.
On her opening address, the National Minister of Gender Child and Social Welfare Hon. Ayaa Warile outlined key objectives of the event saying the conference aims at creating space for women to reflects on their roles in leadership via looking into thematic area on women leadership and climate change and women in civil society.
Warile said that women deserve equal treatment in powering sharing as well in governance and in the implementation of the revitalized peace agreement.
She stressed the contribution made by the women of South Sudan during the liberation struggled saying it's high time for the people republic to allowed them to enjoy their privileges and obligations.
The special representative of the Secretary General in UNMISS resident coordinator of the UN, Ms. Sara Beysolow Nyanti, says 'the strength of a women' enables them across the region of Africa to comes together and share their testimonies, she urges the women of South Sudan to tell their journey better than anyone else.
"It is my hope that South Sudan yield lasting peace for all IDPs and Refugees to return home and developed their country, Said Sara.
Sara describe South Sudan as a young lady "South Sudan as a young lady need Peace, healthcare and good education in order to achieve women empowerment"