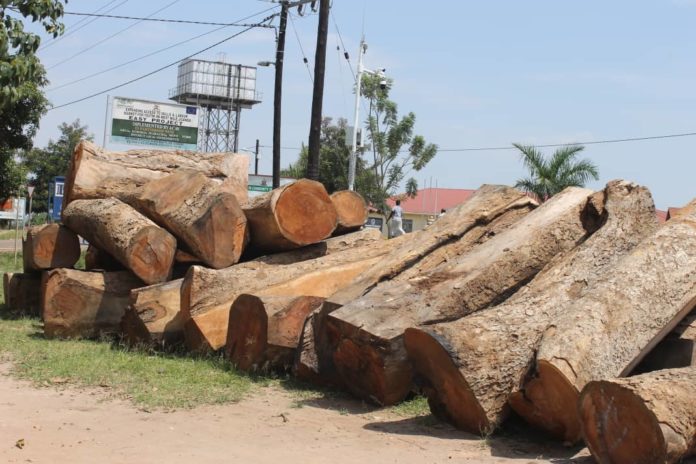 By: Adidi Rashul, spirit fm
The state minister for internal Affairs, Mr. Obinga Mario Kania has warned police officers against aiding environmental depletion and destruction of endangered tree species in west Nile region. The minister echoed the warning on Wednesday while addressing journalists in Koboko district. He said despite government efforts in banning the dealing, cutting, transportation and sale of some of the endangered tree species in the country, the trend has still continued with border districts being the most affected.
The minister cites cases where police officers in the country embroil in dealing in the illegal business contrary to the environmental act of the country.
"The challenge is sometimes those who are supposed to enforce are the perpetrators, more especially police. You find that sometimes these police officers because of temptations and greedy, they get involved in this illegal trade and therefore it becomes very difficult for such kind of person who is practicing such kind of illegal activity to policy himself"-the minister
Minster Okania added that government is doing everything within the means to reduce the trend and also see that the perpetrators are dealt with in accordance to the law.
"I think our level of vigilance more especially by police, NFA and other agencies is real real improving because I remember some tow three years back this was real big big Menes, but right now as I'm talking I think the level has subsided with only a few people who are still continuing with the trend".
The minister however expressed challenges of inadequate man power and transport equipment's to be used and also deployed at the various reserves and borders points. He says due to lack of enough resources, the country only has 43000 police officer which is half the national demand.
"Our biggest challenge has remained with inadequate transport means for mobility and monitoring. The border between Uganda, Congo and south Sudan is very large we can't afford to policy it at various point and river, even when you look at our man power, it's not enough, we only have 43000police officers yet the demand is 83000. We are told some of these people cut the logs and throw the logs in the water and pick later".-minister Okania told journalists.
Mr. Asiku Elias Elly the Member of Parliament for Koboko north constituency (where mountain Kei central forest reserve is found) says most of the tree species have been depleted and efforts to fight against the trend is becoming futile since most of the dealers are armed.
"As we talk now most of these tree spices have been cut off, efforts by local authorities and NFA officials in supporting the fight against the extinction has become difficult since most of the dealers are armed with guns and police becomes helpless less.-the legislator told daily monitor.
He however called for intervention of high level security operatives so as to protect the environment
In Dec 2019 the area Member of Parliament for Koboko north together with police impounded three trucks which were carrying illegally cut Afzelia African logs from mount Kei central forest serve.
On 1st of June, officials from National forest authority together with the environmental police in west Nile arrested a senior police officer together with a driver and a turn over illegal logging of Afelia African tree species.
The suspects identified as Assistant superintendent of police ASP Martin Tatumwa, sam kissera-the driver and habibu Sirengo –the turn man were arrested on 1st of June for passion and transportation of five Afzelia African logs suspected to have been stolen from mountain kei central forest reserve (located at the border of Koboko, Yumbe and south Sudan) managed by national Forest Authority-NFA.
Similarly on the same date, the environmental police impounded another truck with registration number UAD598Q carrying Afzelia African logs believed to have been stolen from south Sudan. The impounded truck was carrying logs of another senior police officer identified as ASP Julius Twesigye an OC at Karamoja region.(after court order, the stolen logs have currently been offloaded at Koboko boma grounds)
In February 2018, government in a circular signed by the state minister for environment Ms. Mary Goretti Kitutu banned any cutting, transportation and sale of Shea nut and Afzelia African tree (Beyo) logs and their products in the country.
According to national forest and tree planting Act 2003 section 29(3) stipulates that the minister will be the lead agency in regulating access to forest genetic resources and will collaborate with other lead agencies in accordance with the Act and other relating laws to manage and control biological resources including cross border bio-diversity.