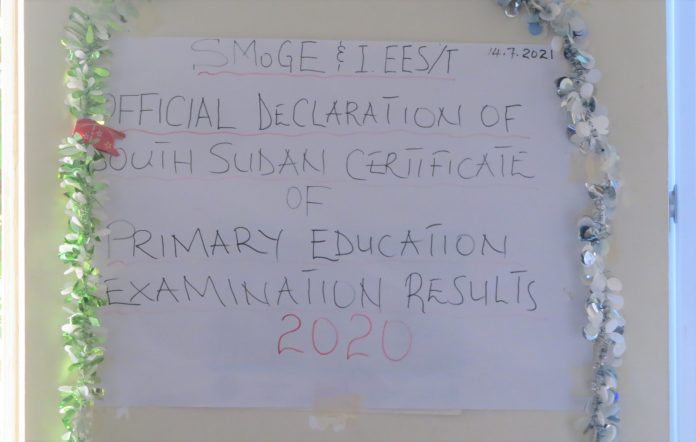 By Obale Emmanuel, Radio Emmanuel
In Eastern Equatoria State 91 percent of candidates passed the South Sudan Certificate of Primary Examinations for academic year 2020. The year 2020 was ranked to be in position compared to the last two years.
According to the Ministry, out of 3,897 candidates registered, 3,805 sat and 92 learners missed the examinations contributing to 5 percent. The percentage pass in the state is 91 percent with the number of failures attributed to 335 pupils.
The statement overwhelmed partners supporting education sector in the state. They vow to support the sector in a bid to minimize cases of school dropout.
Association of Volunteers in International Service or AVSI) is an international organization implementing cooperation projects in various sectors with a preferential focus on education. The organization through its program manager at Torit Field Office says they will make sure to offer support to the ministry towards the betterment of the education of the children.
The Adventist Development and Relief Agency or (ADRA) is a global humanitarian arm of the Seventh-day Adventist Church that works to deliver relief and development assistance around the world with focus on health, education livelihood and emergency.
Its Torit team leader Mr. Muroga James, appreciated the government of South Sudan for the school's resumption after its closure due to the pandemic Covid19 in 2020. He urges the entire population in the State to ensure that children are sent to schools.
Meanwhile Cletus Oboyi is the Acting Director for Basic and Secondary Education at the State Ministry of Education and Instructions. He reiterates on the lack of qualified teachers in various schools across the State. Oboyi says even if the country is still facing such challenges, he calls for commitment among the teachers and encourages them keep on with delivering services to the people.
The officials made their remarks at the State Ministry of Education premises during the declaration of the South Sudan Certificates of Primary Education Examination result on Wednesday.