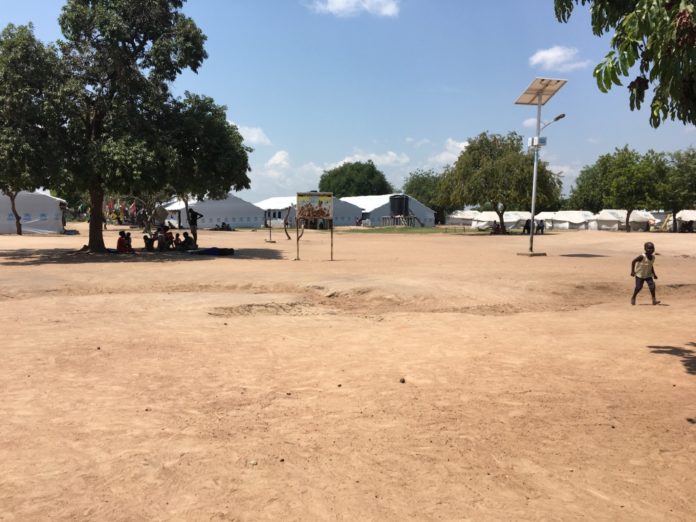 Story by Mega fm
Employees of the United Nations High Commission for Refugees – UNHCR and Office of the Prime Minister (OPM) are puzzled on how to deal with over 3,000 unregistered asylum-seekers from South Sudan, at some reception centers in Lamwo dirtsict. They blame rampant power outage, in the area, of causing the incident, which has brought their work basically to a stand still.
They use computer-based system known as biometric data to take records of people from neighboring countries seeking safety in Uganda. But without steady supply of power, the machines are rendered unusable. This means new arrivals cannot be handled quickly and easily.
For instance, the activities of the UNHCR, the UN refugee agency, are brought to near stand still. The Public Relations Officer of the agency, Aslam Duniya Khan, says her team has been forced to improvise.
"Currently as a result of power outage and poor Internet, OPM and UNHCR are being forced to register the refugees manually then enter them to the computer (later)," she said.
Prime Minister (OPM,) Ruhakana Rugunda and the UN High Commissioner for Refugees, Filipo Grandi, introduced biometric data exercise for purposes of verifying exact numbers of refugees and asylum-seekers in Uganda, after officers in the office of the Prime Minister inflated figures for selfish gains.
Lamwo district hosts many other humanitarian agencies, including refugee-programs implementers. Relying heavily on electricity in their operations, the power blackout has affected loads of activities.
Umeme, Uganda's largest company that maintains, upgrades and expands the distribution of power blames the current blackout as well as the other blackouts in the past on severe effects of climate changes. The company maintains that their distribution lines are heavily disrupted, especially whenever there is a downpour.
Many agencies do not have other options. They rely totally on the main unsteady power supply, which leaves them handicapped every time the power is out. OPM is not exceptional.
However, the Resettlement Camp Commandant under the OPM, Julius Kawuma, has hope.
"We hope to resume normal operations at the reception centers this week, when faulty generators are repaired," he argued.
He is not sure how soon the generator will be fully operational. But he says everything is in control.
Using older methods of pen and paper, at least least 1,400 refugees were registered at their reception centers of Waligo, Ngomoromo, Aweno-Olwiyo and Madi-Opei along South Sudan-Uganda border area by the end of May, according to Julius. A total of 12,000 asylum-seekers from South Sudan alone have entered the area since the beginning of this year, following continuous insecurities in the Africa's youngest country.
The asylum-seekers mostly come from Maji- Moto, and enter Uganda through Ngomoromo, Tseretenya, Apiriti and Madi Opei Sub County in Lamwo district.