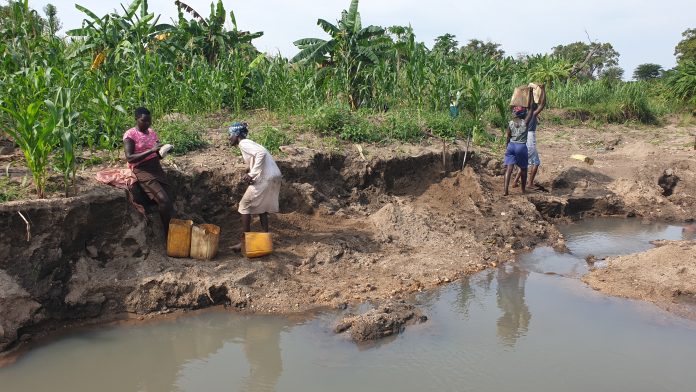 By: Sebit Patrick
How to make ends meet is the first question every household ask at the rising of the sun, especially in a country like South Sudan that doesn't promise tomorrow as unemployment becomes the order of the day. In some places like Magwi County in South Sudan's Eastern Equatoria State, a group of women took to defy the odds by assuming responsibilities of their families as husbands are stuck in the pool of unemployment.
Mary Ayet is the women representative at a sand mining area about 5kilometers from the town suburb. Close to 50 women are practically engaged in sand mining which they believe is the only way they can fend their families.
Mary who lasted for over 3 years in the sand mining job was forced to start sand mining to provide for her children's tuition alongside providing for the family needs as her husband is unemployed.
Mary's decision comes at a time when very few women can easily chip in. however, it's just a tip of the iceberg as competition and delay in the purchase of trips of sand seems to paint more anxiety. According to Mary, it takes close to two weeks before a trip is bought over low demand while others order and disappear without paying for the sand.

Besides the thick and thin line, Mary is determined that her family will never skip a meal as her struggle continues. She encouraged countless women facing challenges in their marriages to stand up and support their families in times their husbands are weakened and broken.
The rift of Kigoya river north of Magwi town is vast and accommodative of all class of people, including school going age.
Hellen Abau Peter a student of Parkhill Secondary School In Magwi town is among over 15 teenage girls mining to support their studies. Is raised by her single mother who cannot pay for her tuition in the school. as a candidate she dropped off to work at the sand mining area, a step she say will help her raise fees to support her education and basic needs.


Hellen's condition is critical but she is inspired to achieve her dreams she decided to join the mining tethrough which she is determined to provide for her needs.