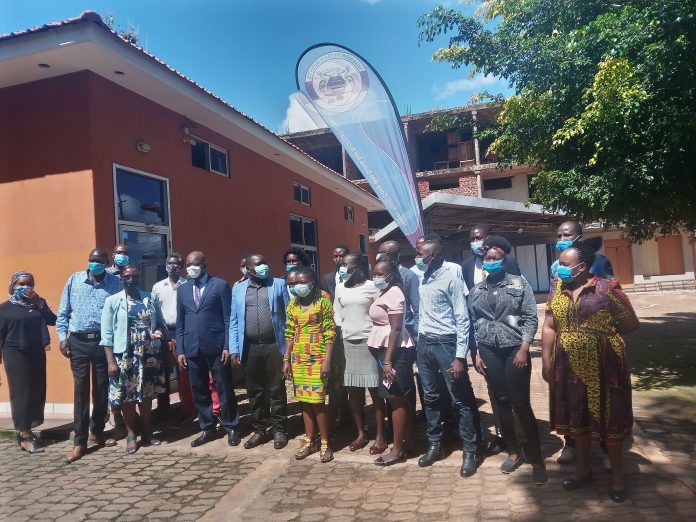 By: Emmy Daniel Ojara and Nkumira Walter, Speak fm
Currently Uganda is considering mass campaign for vaccination against the coronavirus. This move according to the ministry of health will reduce the vigorous spread of the world threatening pandemic.
With over 44 million Ugandans to be vaccinated, the mass campaign across the country is faced with phobia as individuals decline to take the jab. Many of them believe the vaccine is a possible cause of the virus. But even so, the government targets to vaccinate everyone. It took to restrict access to public places for the unvaccinated population including civil servants.
In Gulu, Stephen Odong Latek, the Resident District Commissioner (RDC) vowed not to sit back and watch the unvaccinated public servants endanger the lives of those vaccinated. He also says their services will be discontinued.   He disclosed that the government is currently in the process of adopting a position that anyone who is unvaccinated must not be allowed into a public office or access public services. 
Latek made the revelation on Monday from Pearl Afrique Hotel in Gulu City while opening a training workshop for dozens of journalists from the Acholi and West Nile Sub Regions on defending and promoting Human Rights which was organized by Uganda Human Rights Commission.
During his opening speech at a training workshop for journalists in the Acholi and West Nile Sub-Region on defending and promoting human rights held at Gulu's Pearl Afrique hotel, the RDC highlighted the President's menace of firing them once vaccines designated for their region expires without being used or they are returned to the ministry.   The RDC`s directive comes at a time when President Museveni has reopened other public places including schools, weekly markets, and places of worship after over three months of closure.  
Last week, Anifa Kawooya the State Minister for Health in charge of General Duties asked everyone to get vaccinated against the disease in order to boost their body immunities and protect them against infections.