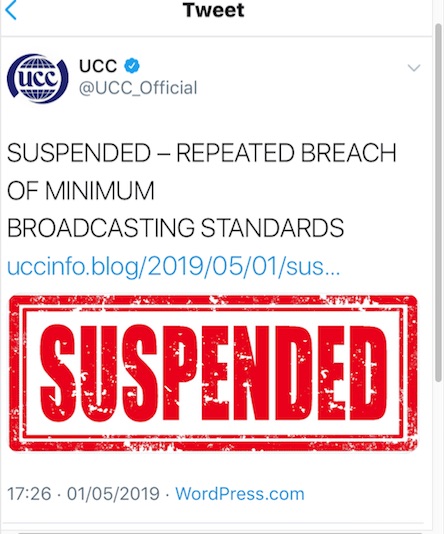 Write-up by Ochan Hannington
As the world prepared to celebrate 3 May, a World Press Freedom Day, Uganda communications and media regulator, Uganda Communications Commission (UCC,) was preparing writing a letter ordering suspension of 39 journalists who work in some 13 country's media houses.
This has caused public anger, especially within the media fraternity.  Individuals, media houses and organisations that support and promote media freedoms do not have kind words towards the regulator. 
In a statement published on their website, the Uganda Communications Commission's directive demands the 39 targeted individuals must be suspended for "repeated breach of minimum broadcasting standards".
UCC does not cite specific programming though. But the directive is in reference to the coverage of the scuffles between the police and supporters of  MP Robert Kyagulanyi also known as Bobi Wine that happened on Monday during which Wine was arrested. 
He is still battling court cases. The legislator was granted a court bail yesterday, since his arrest on Monday. The police accused him of leading a group of protesters last year to engage in unlawful assembly. The MP and his supporters protested for removal of social media tax that the government introduced. The police say the protests were in violation of the Public Order Management Act.
The legislator also Afro Pop Singer, Bobi Wine, has been critical of the country's president, Yoweri Museveni, who has been in power since 1986. Wine has indicated he wants to run for presidency, too. He has attracted large following, especially the youth who form over 80 per cent of the country's population. Needless to say, media coverage of him and his events have drastically increased in the past few months since he joined politics.
But UCC claim broadcasting stations; AKABOOZI FM, BBS TV, BEAT FM, BUKEDDE TV, CAPITAL FM, CBS FM, KINGDOM TV, NBS TV, NTV, PEARL FM, SALT TV, SAPIENTIA FM and SIMBA FM plus Producers, Head of News and Head of Programmes in such media houses did not adhere to professional coverage of Monday events.
NGOs that promote press freedoms have condemned the suspension order of the regulator. CPJ, Committee to Protect Journalists, wants the regulator to cancel the order immediately.