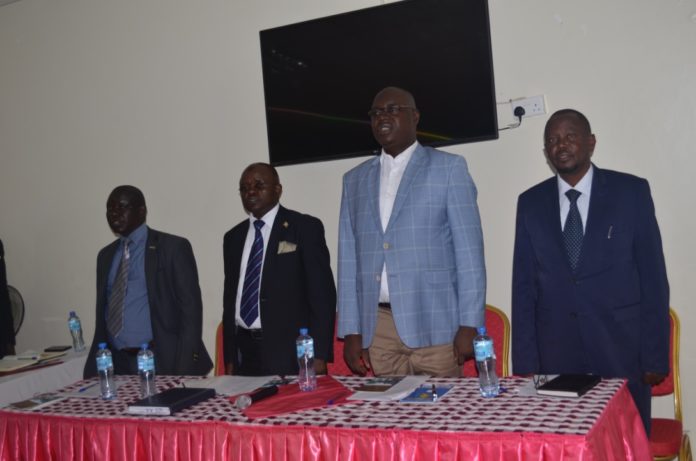 By Spirit Fm
Poverty and widespread unemployment drive Ugandan youth to join South Sudan rebels. Many youth, especially near the border area are thought to be rebel recruits, according to officers. More may follow suit, if nothing is done.
Majority of the youth have joined the biggest rebel group, South Sudan People's Liberation Army in Opposition or SPLA IO, according to Lamwo District Resident Commissioner, James Nabinson Kidega.
James warns the youth of Lamwo, Palabek and neighboring districts to refrain from crossing the border, into South Sudan, with intentions of joining the country's armed groups that are fighting president Salva Kiir's government.
On his recent visit to Eastern part of South Sudan, his counterparts gave him a massage to deliver: "There are over 30 of our children who have joined 'new' rebellions (against South Sudan government) in South Sudan."
"The last meeting we had in (South Sudan's) Torit State, Magwi County with governors and commissioners there, the issue (message) South Sudan government raised to the our (Uganda) local communities of Lamwo, Acholi and Uganda at large is that we are recruiting rebels against them."
"They even mentioned names (of our children,)" he added.
Authorities believe the youth are promised "better" payments, if they joined South Sudan armed groups. Widespread unemployment is also partly blamed, according to local councils. Authorities on both sides of the border are perplexed.
Uganda's Lokung Sub County Local Council, near the border with South Sudan, is concerned about the accusations. But solution to what they describe as a problem is not in their reach.
The chairperson of the Local Council, Ocan Joackim Opoka, says his committee is faced with a difficult situation. He goes ahead to say that finding solutions to the 'problem' will not be easy at the moment due to the rampant poverty as well a unemployment amongst youth.
"Some individuals, especially (unidentified) South Sudanese living in diaspora, who are implicated in this case are the ones funding them (young Ugandans) – paying them US Dollars, through Western Union. I will soon find out who exactly such individual are. We are still investigating," he said.
Since the outbreak of recent violent conflict, South Sudan government has been engulfed in endless battles with several active armed groups operating in various areas of the country.
Spontaneous fighting still occurs between the government forces and rebels. At times, armed groups fight amongst them, sending civilians into panic. This shaky security situation in the Africa's youngest country is still at large, even though a peace deal was signed majorly to end hostilities.