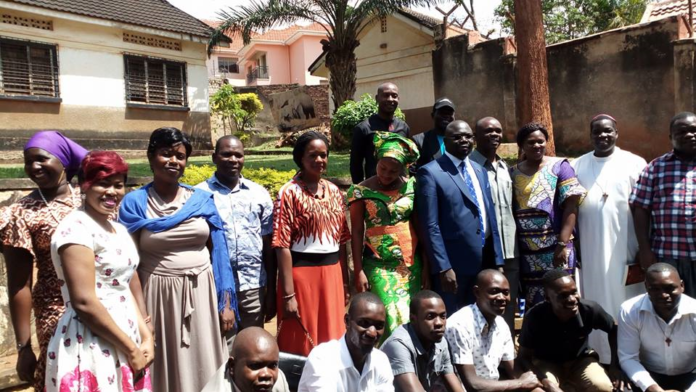 Author: Joseph Nashion
President Salva Kiir and rebel leader Riek Machar met this week, in Khartoum, amid fragile efforts to end five-year civil war. The meeting was a continuation of what many regard as a failed peace deal in Ethiopia, last week. But one South Sudanese bishop is excited about the meeting, of the rival leaders. He believes South Sudan's peace is at hand and advises citizens to begin to work towards filling the existing vacuum of human resource, which he anticipates.
The bishop revealed this during his speech at a congregation, mostly of South Sudanese people living in Uganda's capital, Kampala, this week where he was invited. Other officials from the government of South Sudan attended the Christian gathering, too.
While addressing the gathering, the Bishop of Catholic Church of Tambura, Edward Hiiboro, advised young people, especially students to enter only into schools that will teach them practical skills – and he see a niche. He believes skills are vital for their own wellbeing as well as for the development of their nation.
"I call upon all of you to do vocational courses, to support South Sudan in the nearby future," he said.
According to the UNHCR, Uganda hosts half a million refugees from DR Congo, Somalia, Burundi, Ethiopia and Rwanda. It is estimated the country hosts other one million South Sudanese refugees, most of whom fled the recent deadly violence that erupted in 2013 a result of misunderstanding between South Sudan's president Salva Kiir and his deputy, Riek Machar.
Some areas of South Sudan are still blanketed in gunfire, displacing civilians from their homes. The bishop's own region, Yambio, is still a battlefield for rival armed groups. Furthermore, there are widespread attacks on villages. Last week, one of his own church hosted people who are displaced from their homes by heavy gunfire. Related story. https://training.dw.com/cbn/we-have-idps-all-around-the-church-more-are-coming/
Even though the bishop claims the meeting of both president Salva Kiir and his former deputy, Riek Machar, is a good gesture, some politicians are skeptical. Many killings, disappearances and other atrocities against civilians are still at large, across the country.
The state governor of Gbudue, Daniel Badagbu, says his government is committed towards development. He echoes bishop's words. But the officer is sad. He says everything his government does goes to waste. He blames opposing forces for the destructions.
"We have built a vocational school where a number of practical courses shall be taught soon, at a Catholic Church (in Tambura). But an armed group broke into and stole all the equipment," he claimed.
Without providing details, the governor accuses a group of "few youths" for being responsible of causing anarchy in the area.
Nonetheless, many armed groups, including the National Movement for Change, led by the former governor of the area, Joseph Bakosoro, operate there.
The area borders DR Congo. It hosts more than ten thousand men, women, children and elderly, driven out of their homes, at various camps of internally Displaced Persons (IDP) established at several church premises. Some few refugees from the DR Congo are hosted, too.
Governor Daniel believes some armed groups cross into Uganda with intentions to recruitments. During the gathering, the governor strongly warned young people to refrain from associating with any rebels groups that he blames for causing insecurities.
"No one should lie to you. If you are a student, here in Kampala, continue studying. And if you are a refugee, stay in the camp and leave the dirty politics to the politicians," he added.
South Sudan's civil war has killed tens of thousands of people and displaced millions.