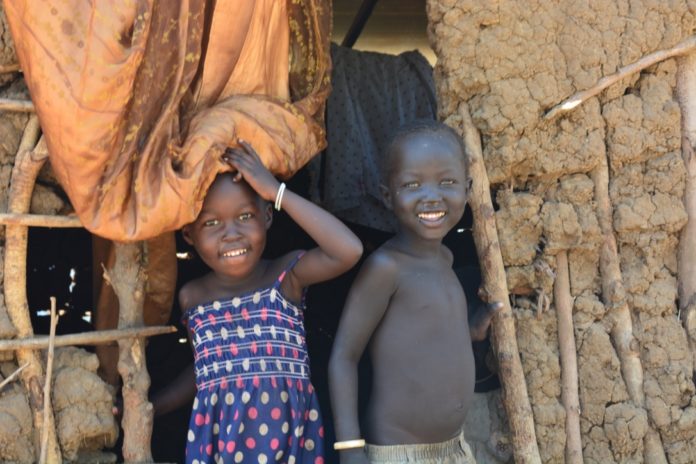 By Mega FM
Big number of South Sudanese refugees and asylum seekers overwhelms Uganda's refugee-hosting Lamwo District. The district receives new arrivals to date. Over 5,000 have been registered recently, increasing the number dramatically. This has added pressure on existing amenities, like education. Nowadays pupils take turns sitting in classrooms, due to enormous numbers of learners in refugee settlements.  
The department of education of Lamwo is struggling to cope by initiating a temporary solution. District authorities introduced 'learning shifts' recently, especially in primary schools all around refugee settlements.
Pupils only get to have chance to stay in school for half-day.
A day is split into two – 'before' and 'after' noon slots. One signs up for either a 'before' or an 'after' noon slot.
The Local Council 5 Chairperson, John Komakech Ogwok, has tasked "UNHCR and Office of the Prime Minister to ensure service delivery in major sectors like health and education is boosted."
He blames the current situation on less funding. He adds that insufficient funds have greatly affected service delivery, especially in the settlements that are still receiving new arrivals as it is in his district.
Recently the district registered new arrivals of asylum seekers, pushing the number of individuals from 49,000 to over 53,000 individuals. More are still coming on a daily basis, reportedly fleeing starvation in Eastern part of South Sudan, according to the in charge of Palabek Settlement, Commandant Julius Kamuza.
"However, the number of refugees arriving has greatly reduced to an average of about seven refugees everyday (as of now). They enter (Uganda) through Madi-Opei Immigration border point," he said.
He notes that insufficient funding has affected health department, too, putting the lives of refugees  as well as host communities in danger.
Uganda's Speaker of Parliament, Rebecca Kadaga, echoed the words of John. She is disappointment in international community, she blames for "failing to fulfill financial pledges they made," during a summit on support for refugees held in Kampala two years ago.
She made the remarks while addressing the recent 10th Conference of Speakers of African Parliaments and Senates, during the Pan-African Parliament in Midrand, South Africa.
She wishes everyone; very much rich countries paid their pledges in order to enable her government to provide adequate social services to over one million refugees, in Uganda.