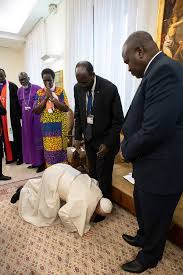 By Otto Abut, CRN
Only two weeks to go for the papal visit to South Sudan and Christians across the country strive to their best with prayers and supplications in ensuring the pontiff visits the war torn country without fail.

The Pope earlier slatted July 2021 to pay courtesy visit to South Sudan amidst jeopardizing efforts by the coubtry's top political leaders to implementing the 2018 Sudan's led Revitalized Agreement on the Resolution of Conflict in South Sudan or R-ARCISS although his doctor advised him to call off the mission over his knee therapy according to the Vatican news

"At the request of his doctors, and in order not to jeopardize the results of the therapy that he is undergoing for his knee, the Holy Father has been forced to postpone, with regret, his Apostolic Journey to the Democratic Republic of Congo and to South Sudan, planned for 2 to 7 July, to a later date to be determined," reads the message from Vatican.

In April 2019, Pope Francis has kissed the feet of South Sudan's previously warring leaders during a two-day spiritual retreat at the Vatican.
"I am asking you as a brother to stay in peace. I am asking you with my heart, let us go forward," the then 82-year-old pontiff said after he performed the rare gesture.

The spiritual leader is expected to visit South Sudan from 3rd -5th February after visiting DR. Congo for a Papal and Ecumenical Pilgrimage of Peace to the two countries.

The Bishop of Tombura-Yambio and Chair of Social Communication at the Bishop's conference, Eduardo Hiboro Kusala is calling on the faithful and citizens of South Sudan to continue with preparations to welcome the Holy Father, Pope Francis in South Sudan in early February.

The Bishop affirms that South Sudanese are ready to welcome the Holy Father with the little they can afford though the preparation may not be visible to the level that other countries might do to welcome the Pope.

He adds that preparations are in high gear from the diocese's level in terms of fundraising and contributions for logistics, feeding and accommodation.

"Even if we don't see any huge visible kind of preparation in terms of infrastructure, and whatever, but I think something has been done, the Cathedral is renovated, Dr. John Garang mausoleum is set for the prayers and service, I just want to say we are prepared." Bishop Eduardo declared.

Bishop Edurado urges Christians to pray for the Holy Father to make his visit successful, as it means a lot to South Sudanese peace and further urged South Sudanese to take advantage of the Pope's visit to reconcile and be united to make peace reign in South Sudan.

"Let us organise our houses in order, here comes the prince of peace, one of the leaders of the world, a messenger of peace, let us reconcile and be united, we clean our places and physically clean our cities". Bishop Eduardo added