By Hafiz Bakhit, Arua one fm
The Uganda Tobacco Control Act 2015 compels tobacco manufacturers to Inscribe a clear warning on Tobacco Packages about the dangers of Tobacco Smoking to Consumers.
However, such warnings are not seen in some new forms of Tobacco that have infiltrated the Ugandan market. What we instead hear or see about these new flavored and modified tobacco products has been described by health experts as misleading and hazardous messages that glorify them.
Activists against Tobacco smoking believe these Hypes have not only kept unsuspecting consumers in the dark about the deadly harm this concealed form of Tobacco causes to their Health and lives but lured more people who end up in a trap, completely unaware that they are digging their own grave,
One such tobacco product that has taken the market by storm is Shisha. Shisha is not only rapidly becoming an alternative to Cigarettes but also luring more previously nonsmokers, especially the youthful population.
Several Un-Suspecting citizens we spoke to on the streets of Arua city say, they did not realize that, the fruit flavor in the Tobacco product does not in any way make it a healthy choice just like the ordinary Cigar.
22-year-old Patricia Milka (Not her real name), is one of them. The University Student in the beginning of our conversation was excited and quick to reveal her crazy love for shisha and how she had no problem smoking it.
"I have smoked Shisha for about 5 years now, I was introduced by friends, and the smell, and flavors attracted me" Patricia narrated
But Halfway through our conversation, as I began to lay bare researched facts about Shisha, the excitement vanished, and she suddenly requested to remain anonymous for fear of being labeled a tobacco Smoker.
At this point, it is evident that the perplexed third-year student is coming to terms with the saddening reality. She is just one among millions of victims who have fallen prey to Shisha Smoking after being successfully hoodwinked to believe that Shisha is not as dangerous as the usual Tobacco.
"Honestly I did not know that it was dangerous as such, I was completely green about that, had I known before, I wouldn't spend all these years smoking Shisha, to me, it was something rather different from the usual Tobacco I know" says the University Student.
All this while, Milka believed that the highly flavored products which come with some aroma and taste consumed through a trendy tube are not in any way harmful like the old known cigarette. It is during our conversation that she woke up to realize that she had fallen into the trap of the Tobacco producing and selling companies using smarter tactics of luring more people into smoking.
The available Option was for her to get out of the trap, to avoid the much-dreaded repercussions that comes with Shisha Smoking. All these worrying trends are a testimony of how brains in the tobacco-producing companies spend sleepless nights devising new and smarter ways of luring more people into Tobacco smoking.
"These are people who would otherwise not go for the old known cigars which usually contain strong odors whose consumption has continued to decline due to awareness campaigns," says, Adroa Sam another resident of Arua City
What is shisha?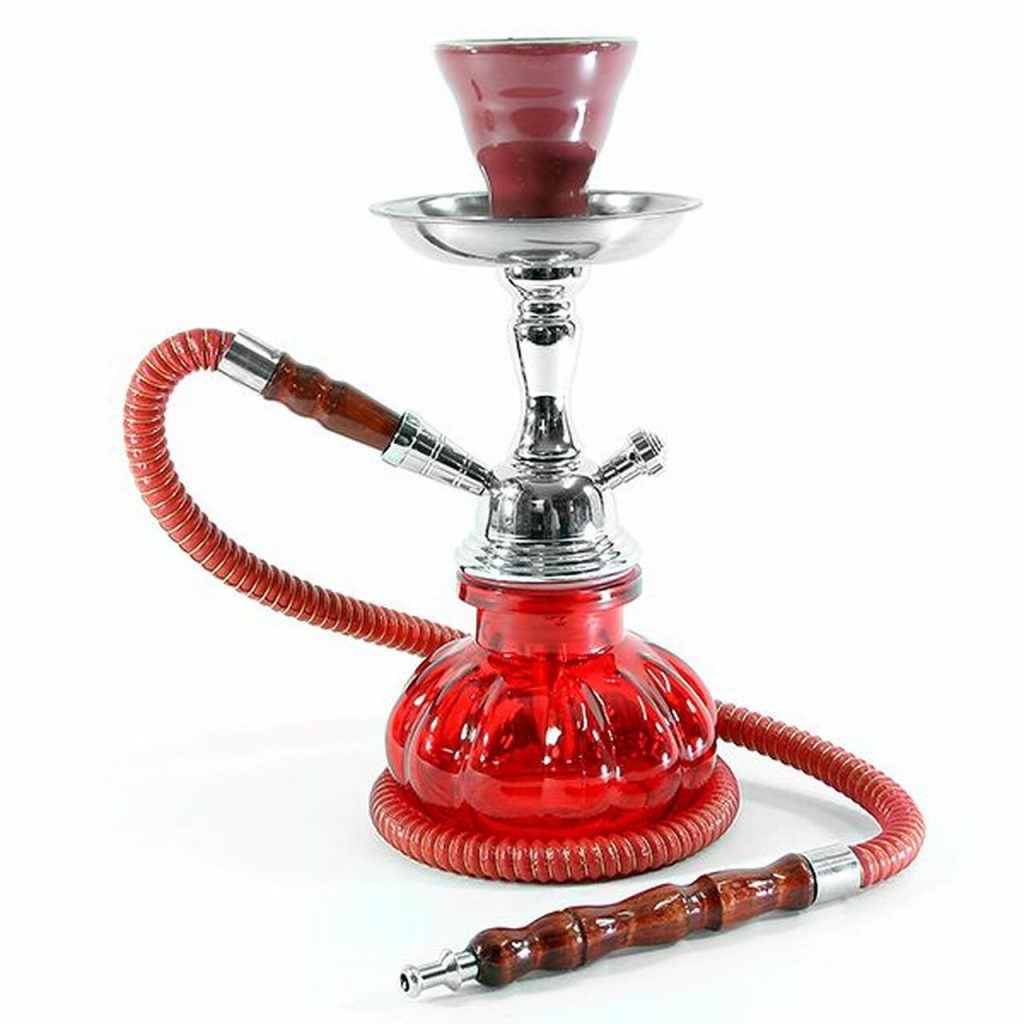 Shisha is a flavored tobacco smoked through a tube that has a chamber and a water bowl. This combustible tobacco prepared with fruit flavors and menthol usually mixed with a dark brown sugar (called molasses sugar), often makes the Smoke Smell Sweet.
The tobacco is usually heated by burning wood, coal, or charcoal which pulls it into the water bowl to the tube which has a mouthpiece that is used to breathe in the smoke.
Studies show, that though water cools the smoke, it does not filter out the toxins meaning, Shisha like any other cigarette exposes people to addictive chemicals. This includes nicotine, toxic and cancer-causing chemicals, carbon monoxide, and heavy metals, which increase the risks for smoking-related cancers, heart, bladder, stomach, esophageal diseases, oral cancers, and carbon monoxide poisoning.
Studies also show more than 80% of youth who ever tried tobacco reported starting with a flavored tobacco product. It is quite different from Regular tobacco which can taste and smell really bad. That's the reason why Health experts such as DR Jurua Michael of Rema Medical Group who handles persons with tobacco related complications are worried,
"It is unfortunate that the onset of tobacco use among the youth in this new trend is through shisha, yet the effects of Shisha is not any other different form other Tobacco Products", Dr. Jurua reveals.
"for example, many patients show diseases of the Lungs, the most common ones our patients present with are chronic bronchitis or chronic Obstructive airway disease, the patient takes in air but exhaling it becomes a challenge, this is a situation which many people who are experiencing may want to reverse but it is impossible" Dr Jurua added.
Dr Jurua also reveals many tobacco smokers who have shown up with complications end up diagnosed with cancer.
"A puff of tobacco contains several compounds, including cancer-causing, and this is worse with Shisha because it has additives, and flavors, so when people take it, they feel appetized, it is not very irritating, everything seems nice, which they enjoy, so difficult to retrieve from the mind of the smokers, that is why the Problem is worse, because it is a camouflage especially for the Young" Jurua adds,
According to DR Jurua, using unclean pipe or sharing a pipe with other smokers could also increase a smoker's chance of getting diseases such as flu, TB, Herpes, Hepatitis, and COVID-19. Available facts also show how deadlier it is. Within a session (which usually lasts 20-80 minutes), a shisha smoker can inhale the same amount of smoke as a cigarette smoker consuming over 100 cigarettes.
How Dire is the situation in West Nile?
Shisha Smoking has penetrated through Social gatherings, hangouts, Nightclubs, Universities and many other places.
West Nile subregion of Northern Uganda like any other region is witnessing rapid growth in the number of Shisha Smokers to the extent that the flavored tobacco now has a permanent place in the budget of many families that frequently gather around Shisha Pipes.
Social pundits here, like Fadhil Lemeriga, are quick to trace the origin of Shisha Smoking in the region to Neighboring South Sudan, a country that they believe also inherited the practice from the Mother Sudan where Arabic culture is deep-rooted.
"Many people from west Nile moved to Juba the capital of South Sudan for opportunities after South Sudan's Independence and encountered South Sudanese and Sudanese with the culture of Shisha Smoking, and when they came back to Uganda with the habit of shisha Smoking." Lemeriga narrates,
According to Lemeriga, those who came back established Commercial Shisha smoking spots after realizing it had a commercial value. With the trend sweeping like wildfire in the region, Children, the elderly, and other nonsmokers have not been spared from secondhand smoking.
These join the list of more than 8 million people who are at risk of dying from tobacco-related illnesses every year, as per the latest figures by the World Health Organization.
Newly packaged and slim flavored Cigarette sticks like Oris pineapple, and Alsultan Mollases among many other illicit Brands of flavored Cigarettes, that have infiltrated the West Nile market through the Porous Borders have made the situation worse.
DR Jurua Michael believes that political will in the fight against tobacco, the active Involvement of the Society, and the role of Health workers are key in promoting a Tobacco-free society.
Enforcement
Though Uganda is among the 182 WHO Member States that adopted the WHO Framework Convention on Tobacco Control (WHO FCTC) in 2003 to address the tobacco epidemic, there are still questions about slow progress in the implementation and enforcement of the Anti-Tobacco Control Bill especially the laws on open sales and smoking of Shisha and flavored Tobacco among others.
"You find people smoking in Public, the Environmental police should clamp down on the Public Shisha Smoking Joints, if we don't manage this, the burden on the Health facilities will increase, and if Ugandans become unhealthy and unproductive it will triple down effect on the Development of Uganda," says Social pundit Fadhil Lemeriga,
Lemeriga thinks some Law enforcers might have been compromised by the owners of the Shisha Smoking Business Premises who offer bribes so that operate their places without any restrictions as they are all out to attract clients.
With the trend sweeping like wildfire in the region, Children, the elderly, and other nonsmokers have not been spared from secondhand smoking. These Join the list of more than 8 million people who die from Tobacco-related illnesses each year, including an estimated 1.3 million non-smokers who are exposed to second-hand smoke.
However, the West Nile Regional Police commander Josephine Angucia denies the assertion that law enforcement officials are compromised.
She says, a team from the Ministry of Health Headquarters in Kampala recently visited the region and in the consultation meeting with Arua City and District Leaders, they agreed to step up sensitization about the law, before an operation is launched because many people think the law is not operational.
She vows that a crackdown will soon be launched against Public Shisha smokers and joints that do not adhere to smoking regulations.
WAY FORWARD
The West Nile Region Police spokesperson is in agreement that Creating public awareness about tobacco use and encouraging the public to adhere to and support the implementation of the Tobacco control laws will help reduce the morbidity and mortality of cancers caused by tobacco smoke.
According to the Center for Health Human Rights and Development (CEHURD) Uganda, Tobacco use remains a significant public health challenge in Uganda and a leading cause of non-communicable diseases including heart diseases and premature deaths. Tobacco is also the only legally available consumer product that kills people when it is used entirely as intended.
World Health Organization puts the number of people killed each year as a result of Tobacco Smoking at more than 8 million people.
Around 1.3 Million are the result of non-Smokers being exposed to secondhand smoke.