With an estimated traditional health practitioner for every 200 – 400 Ugandans, herbal medicine has long been used to manage a range of common conditions, including malaria, digestive and respiratory problems, toothaches, skin diseases, and childbirth complications. But as people continue to cut down trees for charcoal fuel and as urbanization cuts into or plunders the vegetation, there is a question of how long these herbs will survive.
Unemployed youth, corrupt security and government officials take advantage of weak laws to trade in illicit forest products in Northern Uganda especially Warbugia Ugandensis, a local herbal tree species which is vital for herbal medicine research.
Gulu, Uganda:
By Okello Jesus Ojara
Geoffrey Olanya, a farmer in Lakalanganya village in Pader district, Northern Uganda, has been cutting down endangered indigenous trees, despite government warnings.
"I have been cutting down trees for charcoal, which I sell to provide necessities for my family like paying for school fees, medical care and feeding my family," he told this publication.
Impenetrable covers of indigenous tree species in the Acholi region of Uganda have dramatically diminished owing to rampant illegal logging for commercial charcoal production done by people like Olanya.
Warbugia Ugandensis (also known as Ugandan Green Heart), Afzelia Africana (also known as African mahogany), and Shea Nut are the most endangered. They are among 32 vanishing tree species on the government's red list.
Mr. Ramandan Odoch, the LC I chairperson RugaRuga village, Adilang Sub county, Agago district disclosed that the situation in his village is worsening day and night with the continuous illegal charcoal businesses that have lasted for the past recent years.
"We have been in this mess for a very long time and the land is becoming barren due to the illegal charcoal dealers who have camped in the village. We have tried our level best to let these people leave but these people say they have a licnese from the district and ministry," says Ramandan.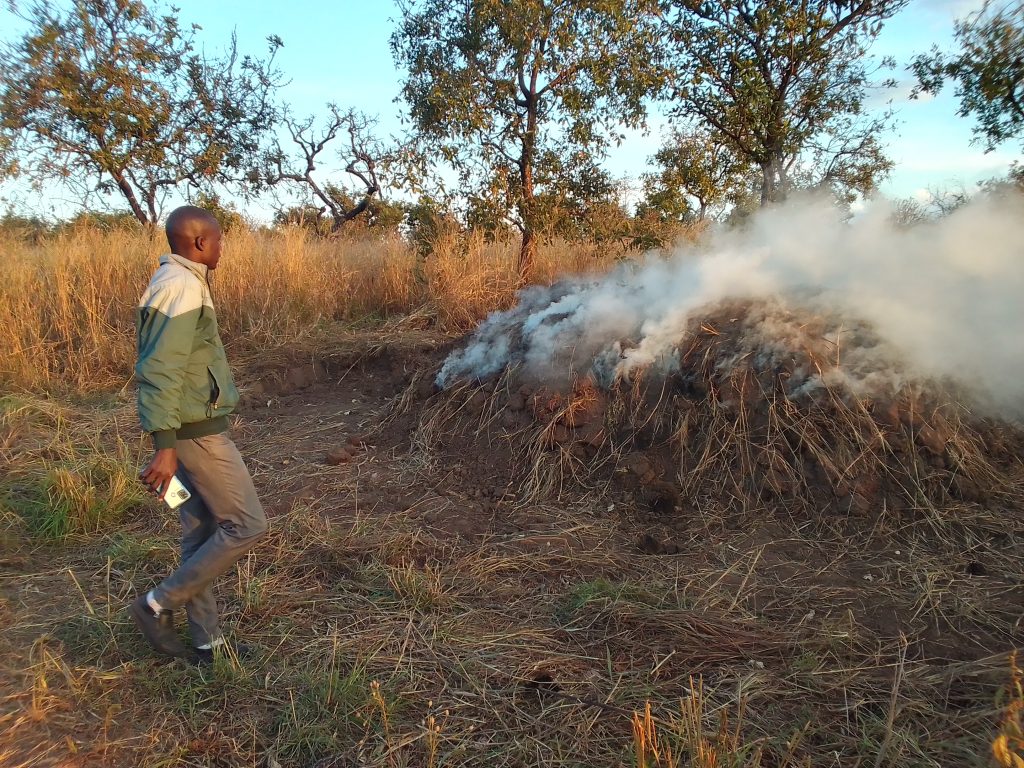 In Uganda, the trees grow in the eight districts of Acholi region – Gulu, Kitgum, Pader, Amuru, Lamwo, Agago, Nwoya, and Omoro. They also grow in neighboring lango and West nile, karamoja, Nakasongola, and Teso.
He added that the charcoal dealers cut the trees indiscriminately and they have depleted the indigenous trees like the Shea Nut trees which had been the most populated tree species within the village.
Christine Lapolo, a 43 years old mother of five and a widow from RugaRuga village disclosed that the illegal charcoal business greatly affects both men and women equally and women are at the front of the effects.
She noted that they can no longer get what to feed their families on because the climate change effects have become too much because of the continuous illegal charcoal trade in the village.
"We are now suffering, we have no food to feed our families and even next year, we don't know whether our children will go to school. These people have destroyed all our trees but I blame the local leaders and police who are allowing these people to come because I wonder how they enter the district," she told the publication.
Mrs. Pauline Ajulina Olok, a resident of the same village notes that it would be good if the local communities are the only ones cutting these trees to make charcoal for domestic uses and not this large scale cutting of trees by these dealers from other parts of the country.
"If we are the only ones cutting these trees in small numbers for charcoal for our domestic uses it would have been better because we would not have this prolonged sunshine and unfavorable weather pattern," noted Ajulina.
George Magomu is a Ugandan elementary school teacher turned charcoal producer. He buys and transports charcoal from Eastern and Northern Uganda to the border district of Busia, where he can trade it.
Like Magomu many charcoal traders interviewed say they are able to buy land, build homes in a short time, ay school fees for their children and comfortably meet the needs of their family.
Brian Mugisha from Kamwenge District says he successfully trades in charcoal business because his back is fully covered by big shots in government and the market is very open.
"The market here is very open. You either take on charcoal, which currently has huge market at Busia Border, or stay poor. Uganda is currently supplying Kenya's 65 per cent of charcoal after it slapped a ban on charcoal trade," Mr. Mugisha says.
His assertion is backed by the Global Initiative against Transnational Organized Crime (GIATOC) in their report titled,Black gold; the charcoal grey market in Kenya, Uganda, and South Sudan. 
The study found that following a moratorium on charcoal production in Kenya, a lot of the product was being imported from Uganda.
Joseph Wambedde, a former carpenter, who is now a dealer buying and transporting charcoal from Northern Uganda to the border district of Busia, says business over these years has been good citing that he has been able to build a house in a short time, pay school fees for his children and comfortably meet the needs of his family.
"I collect charcoal from Agago and transport it to my business in Busia. I sell my charcoal in Busia, where it is transported to Kenya. That is how I get some good money to feed my family and meet all my expenses," he shared with Speak FM radio in Gulu city.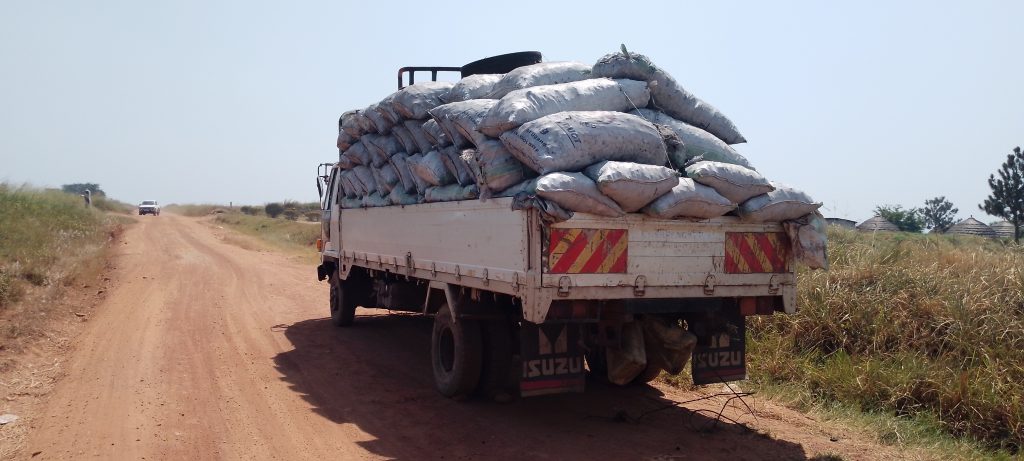 Ojok Kite Okidi, Chairman LC III, Lira Kato Sub County in Agago district disclosed that the sub county has experienced a constant and uncontrollable illegal charcoal business within the past recent years.
He added that the Sub County authorities have tried their level best in order to end these illegal commercial charcoal business but their efforts have been rendered futile because the district officials do give directives to released impounded charcoal trucks without giving a clear directive and paying the relevant fines to the sub county.
"We have tried to end this business, but our problem is the higher leaders, and police who are escorting these vehicles and doing nothing to enforce laws and regulations," added Kite.
He further noted that though the illegal commercial charcoal dealers are to blame for the unfavorable weather conditions being experienced within the Sub County and district but also the local communities who are constantly cutting down trees for both domestic and commercial uses.
"We should we blame if not them?, we never had this kind of weather pattern before but when this illicit charcoal business started, everything immediately changed and you cannot move less than 100 meters and you will find not less than 20 sacks of charcoal in every household within the sub county," Okidi says.
Leonard Opio Ojok, the Agago District LC V chairman notes that the charcoal business situation within the district has been worse in the past five years but their efforts as the district officials have been made futile by the police and soldiers who are now at the frontline in escorting these charcoal trucks.
"When we impound these charcoal trucks and take them to the police stations, the police release these trucks under no circumstances and make these illegal dealers continue with their businesses within the district," disclosed Ojok.
He further notes that the police when asked under what circumstances these vehicles have disappeared from the station, they claimed that these truck owners have the necessary documents.
"The police will say, they have forwarded the cases to the court but they were released from there and they have no clue how these trucks disappeared from the station," he added.
He however noted that in 2021, the district scrapped off the payment of charcoal revenue at both sub county and district making the commercial trade in charcoal became illegal though at that time each commercial charcoal dealer was paying shillings 500,000 at the Sub County and another shillings 500,000 at the district and later issued a permit for transporting charcoal.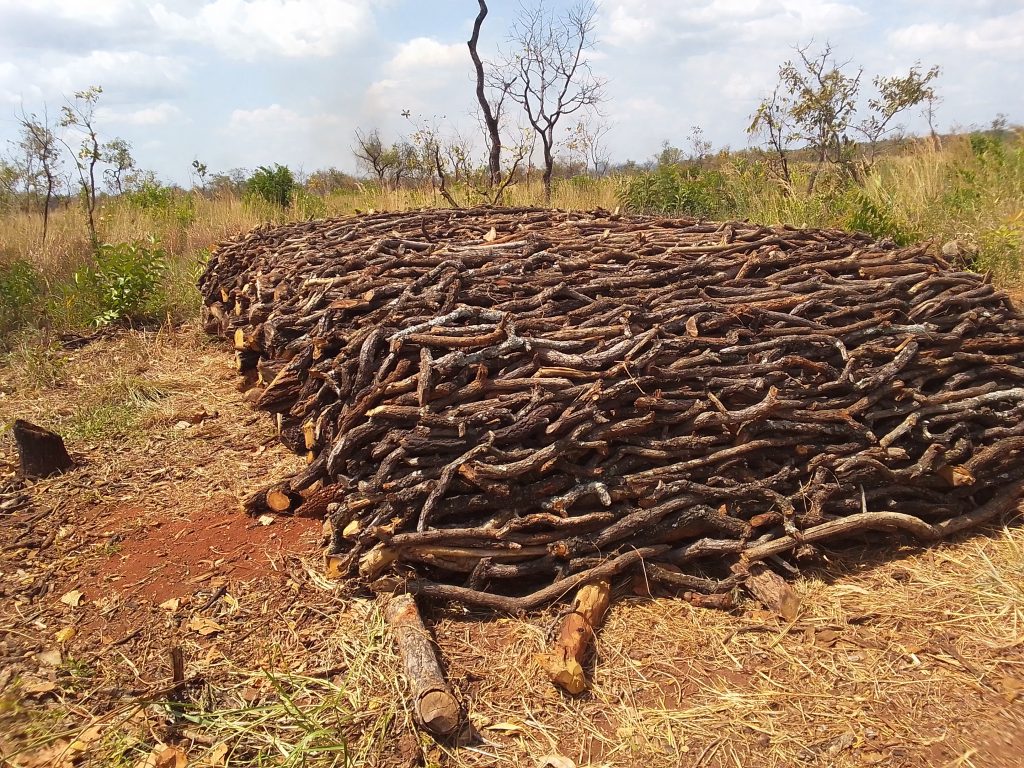 From 1986 to 2006, the Lord's Resistance Army, a rebel group based in Northern Uganda, waged a civil war against the government, ruining the local population's livelihoods.
When peace returned to the region, the Acholi gradually returned to their lands from the internally displaced people's camps. But due to the widespread poverty due to the conflict, hundreds of unemployed youth, corrupt local leaders, and government officials have taken advantage of the calm to transact in the illicit forest products, said Rwot Ongom Kasimiro of Otong Chiefdom.
In Paibona Sub County in Gulu District the local communities have blamed political leaders for promoting massive tree cutting for commercial charcoal production.
In an assessment by the district authorities to map deforestation in the area, heaps of cut trees being burnt for charcoal were found but not dealers found on site.
But in the villages of Akor and Ayweri, there were chunks of deforested land and there are 193 registered commercial charcoal dealers with the said fake licenses.
Mr. Jackson Ayoli, Chairman LC III Paibona Sub County noted that leaders cannot fight commercial charcoal burning because it is a major source of revenue and there are big shots in government involved in the business.
He however noted that the Sub County collected Shs3 million in the financial year 2021/2022 from taxing charcoal and other forest products while from September to November 2022 quarter, the sub county collected Shs3.1 million from forest related products.
"Forest products are one of the major sources of local revenue in this sub county and without it, paying the allowances of the sub county councilors and other staff would be a huge problem," added Mr. Ayoli.
Rwot David Onen Acana II, the Acholi Paramount Chief, urged his people to preserve trees for future generations.
"We must rally our people at all levels to guard the environment, especially the indigenous herbal tree species like Warbugia Ugandensis and Shea Nut trees among others. My people must resist the temptations for quick money, which in the long run will be catastrophic to life and environment," he told Speak FM a local radio station in Gulu city.
In line with Section 29 (1 & 3) of the National Forestry and Tree Panting Act 2003, the Ugandan government through the line Ministry of Water and Environment, suspended the cutting, transportation, and sale of products of Shea nut trees in 2018. However, illicit trade in tree products continues to flourish.
"Excessive cutting of Shea nut trees and other indigenous trees for charcoal and firewood has led to the low- density distribution of the Shea nut trees and Warbugia Ugandensis compared to other indigenous tree species in the area," said a 2016 study by Uganda's National Environment Management Authority.
"Why must I die of starvation with my six children, yet I have the free trees growing up in my land, and I can cut them to earn me some money to make ends meet?" Hellen Lagum, a 58-year-old widow from Lajalula village, Lakang Sub County, Amuru district told this publication.
Within Northern Uganda, a sack of charcoal sells for Ush. 35,000 ($10), however, the same sack goes for Ush. 100,000 ($28) in Kampala and Busia Town, at the Uganda-Kenya border.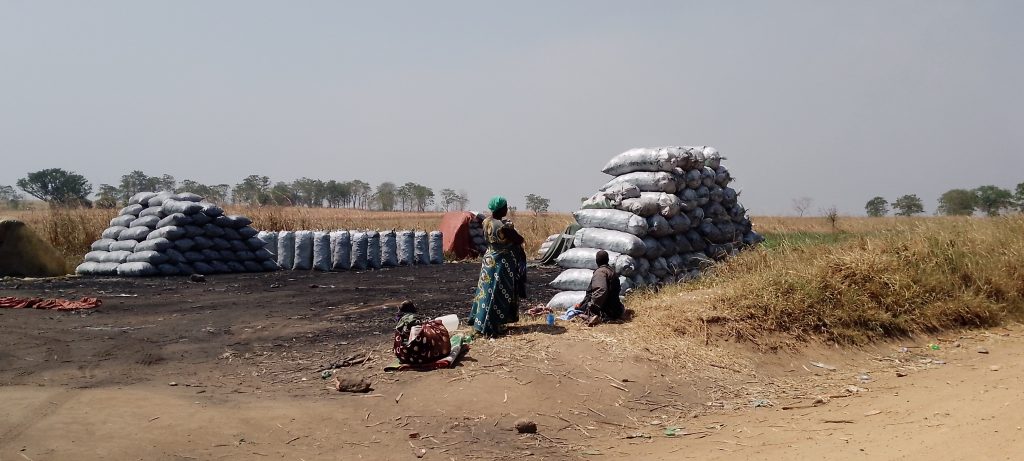 Michael Tebere, the senior governance technical advisor with the Uganda Governance, Accountability, Participation, and Performance Program, said the government must enforce the ban on charcoal burning in all districts and charcoal burning should be restricted to wood cleared for farmland.
According to Global Forest Watch, Gulu district lost 98 hectares of forest cover to illegal logging and charcoal burning in 2021, an equivalent of 440,000 tonnes of carbon dioxide emissions.
It is also estimated that between 2001 and 2021, Gulu district lost 38,700 hectares of tree cover.
David Ongom Mudong Aswa River Region Police Spokesperson disclosed that roles and obligations of the environmental police are well stipulated in the police code of conducts and any officer who behaves contrary to the professional code of conduct should be reported to their superior for investigations and further actions.
"We don't want these verbal allegations, report the said police officers to the region so that they are investigated," Mudong noted.
He further noted that people should stop verbal allegations but put everything in black and white whenever they see a police officer escorting or aiding illegal charcoal business or any truck carrying charcoal.
Brig. General Bonny Bamwiseki, the commander of the UPDF 4th Division refuted the allegations that there are UPDF soldiers escorting these charcoal trucks and appealed to the local community members to be vigilant and report any soldier allegedly involved in the business.
"Our work as UPDF is to protect the people and even the environment, so shout to the division commander when you see any soldier escorting charcoal trucks or arrest and tie him then call me," Bonny said.
He however noted that the army are not involve in these illegal commercial charcoal business and it is way back in the 1986 when he was posted as 4th Division Commander and have been seeing these charcoal trucks leaving Northern Uganda to Central and Western Part of the country and wonder how these impounded trucks leave the National Forestry Authority in Gulu sector.
"I wonder how these impounded trucks leave the NFA in Gulu and they allegedly pay Ugx. 1 million shillings to the NFA officials for the trucks to be released." Added Bonny.
Joseph Otim, the NFA Gulu Sector's manager confirmed that it is true that the impounded charcoal trucks leave the NFA compound to their respective destinations because of many factors.
"We are mandated by law to impound all illegal persons dealing in forest products but in case these impounded trucks produce the required documents like trading licenses, permit and other certificates and sometimes pay the required fines which goes directly into the government consolidated accounts then they are allowed to go." Noted Otim.
 "But here in Northern Uganda, I am not sure whether there is any person who has been authorized to deal in forest products, even in my sector areas, I have no one hence these charcoal trucks are all illegal," discloses Otim.
The situation is worrisome: according to the National Forestry Authority (NFA), the forest cover made up 24% of Ugandan territories. Since then, forest cover has fallen to 12.4%.
Regulatory gaps and cost
Charcoal was never an export in Uganda until the country amended the external Trade Act, a 1953 law that made provision for regulation.
An official from Uganda's National Environment Management Authority (NEMA) who wished to remain anonymous stated the original External Trade Act banned charcoal exports because the product is exhaustible and its exploitation unsustainable.
The official stressed that, despite technical efforts to help regulate the sector, poor political will has frustrated the ultimate goal.
"Uganda does not have enough laws and deterrent efforts measures to compete with Kenya, where the protection, management, and preservation of nature is strict and cohesive," said the government official.
Trucks caught and impounded for carrying illicit forest products have always exploited the weak regulation to maneuver their way out.
In March 2021, the late Major General Paul Lokech, the Deputy Inspector General of Police, directed that government officials or security officers caught in illegal logging and charcoal business be arrested.
94 percent of the national households use either firewood or charcoal for cooking.
Uganda Bureau of Statistics December 2019
Threats to Uganda's forest
In an interview, Hon. Beatrice Atim Anywar, Minister of State for Environment holding the Portfolio of Minister for Water and Environment disclosed that the ministry has established that the charcoal and timber dealers target areas that relatively forested, buy harvesting rights from land owners at a small fee, and harvest all trees in sight including uprooting tree stamps which are later converted into timber and charcoal respectively and further expressed concern about the demand for charcoal by Kenyans increasingly erasing trees in Uganda especially Northern Uganda.
"We have tried to regulate the illegal commercial charcoal businesses in Northern Uganda as a ministry, but the local communities illegally sell or hire their land to these illegal commercial charcoal dealers," added Anywar.
She noted that in their effort to stop the business, in 2018, the government under Section 29 (1&2) of the National Forestry and Tree Planting Act, 2003, suspended the cutting, transportation and sale of products of Shea nut trees following its rapid destruction.
This story was produced with support from Center for Investigative Journalism through the African Institute for Investigative Journalism under the Open Climate Fellowship 2022.