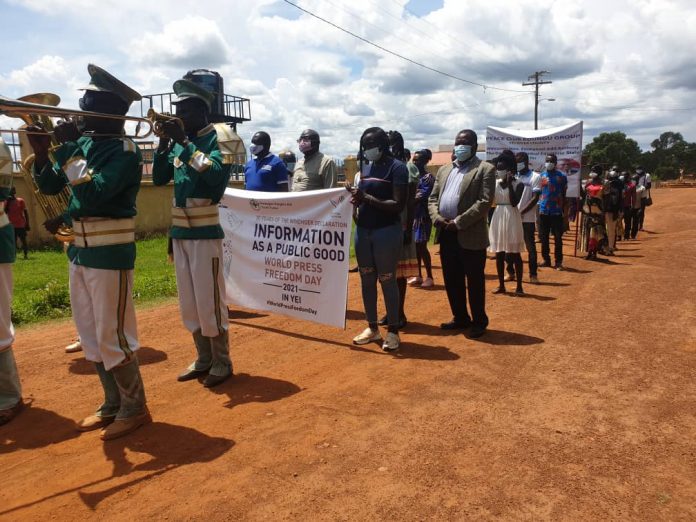 By Ojok Darious Kidomua, Easter Radio
Every 3rd of May is a day dedicated to commemorate worlds press freedom day. The day is designed to campaign for the protection and safety of the press in the face of attack against its independence, discuss journalistic ethics and celebrate journalists who gave their lives in the pursuit for truth.
This year's theme is "Information as a public good." Journalists and media outlets in Yei River County of Central Equatoria State on Monday joined the rest of the world in commemorating the day.
In South Sudan, Journalistic pursuit is characterised by censorship, harrashment and a threatning working environment putting the lives of the practitioners under threat.
Sapana Agyuli Abui, the Director General for information and Media compliance in South Sudan explains that freedom of media means freedom from any unlawful form of censorship, not to be threatened, not to be harassed and the working environment should be conducive.
Though previous outcry states that media outlets and journalists suffered widespread abuse and closure in efforts to bring the country's wrongs to right, statements from the director state that there has been significant improvement in the recent years.
Abui reveal that the freedom situation in South Sudan has greatly improved compared to previous years. He added that most of the negative impediments to freedom of the press and media are being reformed.
Meanwhile, Michael Duku Aggrey, AMDISS-Executive Director explained that the day is commemorated to promote media or freedom of expression and the press to remind the government of the obligation to protect and promote media especially journaliststs from violence.