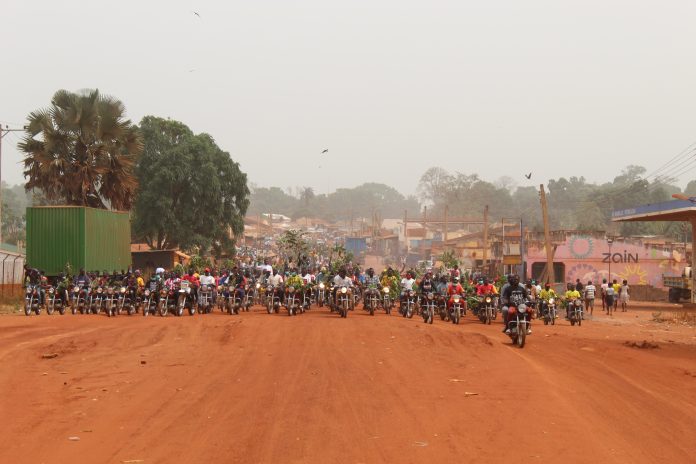 Motorcycles and mini taxis are considered the fastest and most affordable means of transport between the local populations in South Sudan, transporting them from one location to another.
Especially for low paid civil servants and low income personnel who struggle to make ends meet motorcycles are the immediate, accessible and pocket friendly commercial means of transport.
In the past few months the motorists have been grappling with low income as the price of fuel hikes coupled with the depreciating rate of the country's local currency against the U.S Dollars.
In Yambio County of the Western Equatoria State, Commercial motorists commonly known as Bodo-boda riders have halted operation, demanding rate increment on transportation fare, a move that saw public in Yambio County struggling to reach their desired destinations and work places while others footing as no commercial motorcycles could be seen on road.
The motorists also accused the director of traffic police in the State for hiking the cost of number plates and riding permits. This according to them resulted to halt operations as they demand an intervention by the chamber of commerce, an entity responsible for business activities.
Other reason according to the commercial motorists is high price of spare parts of motorcycles.
"Previously we used to buy one litter of engine oil for 700ssp but now it has increased to 2,500ssp, a single Tube has been traded at 500ssp current market price is 1,500ssp." says Jackson Gaanika, the acting Chairperson of commercial motorists in Yambio. "All we need is the authorities should agree to our demand to increase 100ssp on top our 200ssp as charge fees for town service, reduce the high price of number plates and ridding permits and high prices of spare parts, the new fare we are asking for is 300ssp only for town service". he adds.
Police in the area however, decline to make any move citing no powers to make decisions.
Mr. Canal Santo Archangel Ginana director of traffic police in Western Equatoria State says he doesn't have any power to increase the fare of motorcycle number plates neither the ridding permits, citing the fare comes right from the national government.
"This accusation is not true because in December last year I called all the head of commercial motorists and I showed to them the copy of a document that came from the national office for traffic police detailing the cost of number plate and ridding permit." says Canal. "Motorcycle number plate cost 21,250ssp, number plate for commercial motorcycle goes for 22,250ssp, driving permit for foreigners cost $100 per year while we charge South Sudanese 22,000ssp for a private driving permit and 23,000ssp for commercial driving permit that expires after five years. Commercial motorists obtain ridding permits for 10,000ssp and it expires in a year after you can renew with a cost of 5,000ssp". Canal added.
Besides price skyrocketting, police have also been impounding motorcycles for riders without permit and charging them 1000 ssp ($2.2). a move they defend as an outcome of meeting with the heads of associattion to discipline riders.
However, besides the police decline to respond to the matter, no entity has expressed efforts to address the challenges the commercial motorists faced