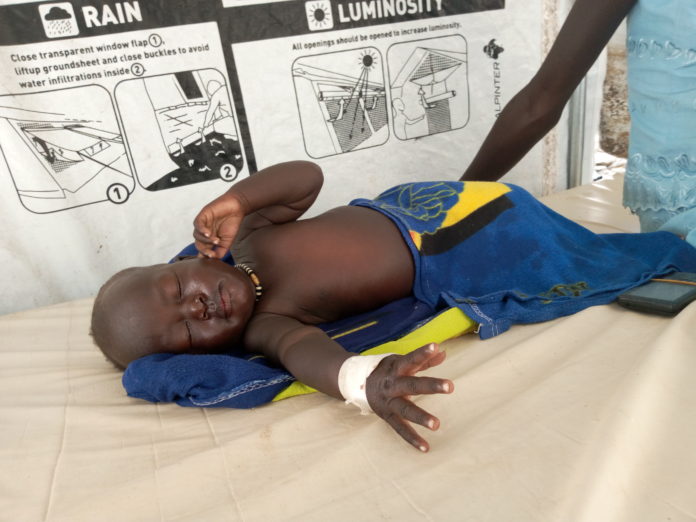 On the sideline of tackling articles of the ongoing Revitalized Agreement on the resolution of the conflict in South Sudan to bring about lasting peace in the country, other natural suspicions keeps popping up to divert public attention from their common denominator. In Jonglei state capital Bor, Doctors are warning residents against the possible outbreak of measles after eight children were recently diagnosed with the disease.
Measles is a highly infectious illness caused by the Rubeola virus. If measles enters an area where the people have never been exposed, the result can be devastating.
Bol Chau Manyang, A medical director at Bor Hospital says he has registered at least Eight (8) cases in his facility and admitted them in isolation to prevent the spread. He is urging the residents to check that they are protected against the disease.
"Measles is very serious and actual it was what killed so many children in the 80s when there were no vaccinations in the states." Chau said
Mothers of children diagnosed with the viruses accompanied their children to the facility seeking doctors' attention and share with our reporter how scary and unusual the disease invaded their children.
Aluel Malual Anyang, 24 and a mother to 1 year old child says her son developed tiny white spots with bluish-white centers inside the mouth, fever and cough one week ago.
Aluel confirms her child now feels better with the sores on his body fading off as doctors managed to contain the situation.
"My child is suffering from measles he had red eyes, fever and cough but now he is getting better because the doctors are doing the treatment. The sores on his body have disappeared but only coughing and vomiting are still. I hope he will get well" said Anyang
Another 21 year old Rebecca Achol Nek says her 1 year old son is also suffering from Measles. Achol says she lives about 8 Kilometers away from Bor hospital and could not access the hospital for the vaccination of her son.
Most medical facilities in the rural setups lack adequate consignment and committed staffs who could response the emergencies such as the contagious Rubeola virus which can rapidly spread especially among children.
Patients admitted to the facility on the hypothesis of measles are set apart to prevent the spread of the virus to other patients. However this was a challenge at bor hospital in the beginning.
Achol Mabior Lueth, a mother of 6 says her 9-month old daughter got infected with measles from Bor hospital after sharing bed next to patient infected with measles.
"When I brought my child to the hospital, the doctor diagnosed her with malaria but she was admitted near a child that had symptoms of measles. I didn't know that. But now my daughter have similar symptoms and the doctors say it is measles. I suspect my daughter got infected from measles here in the hospital." Said Mabior
Doctor Chau however urged Bor resident to be alert about the possible outbreak of measles. Chau says the residents should check that they are protected against measles, which he says is extremely infectious.
"You have to be coming to any health facility for any child to be vaccinated but this is just free of charge, you are not charged anything. It is just free provided by the government and W.H.O and that means that you have to be bringing your child to hospital for immunization or else there may be complication later" he adds
Measles is a highly infectious viral illness that can be very unpleasant and sometimes lead to serious complications with symptoms such as a runny nose, sneezing and a cough and a small greyish-white spots on the inside of the cheeks.
Doctor Chau says anyone can get measles if they have not been vaccinated or have not had it before, although it's most common in young children.
By: Deng Ghai Deng, Jonglei fm.